last weekend we celebrated our bud's 1st birthday with a party at our home.
it was the first kid's birthday party i've ever planned & thrown, and even though i swore i wouldn't be one of those parents who threw their kids over-the-top parties, it was definitely difficult not to go overboard.
i got my idea for the party theme from this picture i saw on etsy months ago. i'm not big on party themes in general, but our bud loves dr. seuss, and this adorable 'cat in the hat' ensemble sealed the deal. plus, i love the color combo of red, white and turquoise. so we went with a loose 'cat in the hat' theme.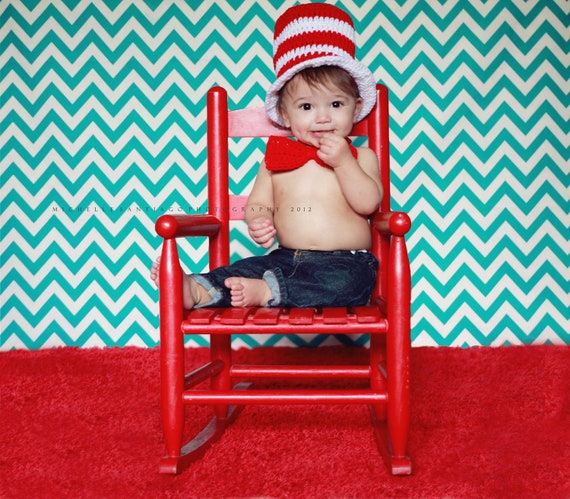 using pinterest as my primary inspiration source, i was on my way.
some things i learned through the planning process -
having a child with an early january birthday makes things much more challenging in terms of party planning. there was no relaxing after the holidays; instead, i had to completely shift gears into party-planning mode.
a week and half is not a lot of time to plan a party...but it's do-able.
having a mother-in-law who is willing to help however she can is the best gift i could ever ask for!
pinterest can be your best friend or worse enemy. i already had a LOVE/HATE relationship with pinterest, and that was amplified during this process. i found more ideas than i could ever implement, but the perfectionist in me wanted to do it all! i literally had to step away from my computer screen on numerous occasions and have little mini-therapy sessions with myself where i reminded myself that the women whose parties i was viewing on pinterest either:

had an unlimited budget
had unlimited time on their hands
were WAY more crafty and creative than me
probably ALL OF THE ABOVE
it IS possible to throw a decent party on a small budget - once i came to terms with the fact that my party was not going to look like a pinterest party, i was able to focus on a few key details i wanted, and made it my own. some money saving tricks i discovered along the way:

dollar tree is great for plates, napkins, plastic-wear & tablecloths
balloons are cheap and can be purchased at most grocery stores (no need to go to a party store) - $1 (including helium ) at our local fred meyer
get a smash cake for the birthday boy and bake cupcakes for the rest of the kiddos
cupcake toppers are SO easy to make if you have a big hole punch, card stock and stickers that match the theme.
a grocery store bakery is more than capable of making a great kid's birthday cake - i simply brought in a picture of what i wanted to our local fred meyer store bakery and got a 2-layer, 8 inch cake for $11.99, and it was awesome!
a plain plastic tablecloth from the dollar tree can be spruced up with circles of all sizes cut from fun paper found at michaels.
fun fonts can be found free online, downloaded, printed and used as stencils to make fun things like banners, etc.
a personalized invitation can be purchased on etsy (anywhere from $5-15) as a digital file sized as a 4x6 photo (which costs 9 cents to print at costco).
michael's has become one of my new favorite stores - before this month, i had probably seen the inside a michael's (or any other craft store) fewer than five times...and NEVER understood the attraction but that all changed during this process. and so...
I DISCOVERED I DON'T HATE CRAFTS / DIY PROJECTS. this was a huge personal discovery for me. in a family where all of my six sisters are super crafty and creative, i always felt the crafty gene bypassed me and was just grateful to at least have my photography as my creative outlet. well, apparently the key was keeping it simple. i'm big on end results, and it was very satisfying to see all the party details come together, and to feel the satisfaction of having done it myself (with some help along the way - thanks, erica)!
i was thrilled with how it all turned out (mainly because i didn't think i could pull it all together)!! while i don't foresee doing this every year, it was a great learning experience, and even though it took till my mid-30's, it was fun to discover that i enjoy crafting after all, even if just for SIMPLE projects.
in the end, the best part of the day was the people who came to celebrate alongside us and our bud. we had a packed house (20 adults, 18 children), and it was a day we won't soon forget. :)
**********
the details
and after everyone was gone, i finally found his bow-tie..hiding in his hat!